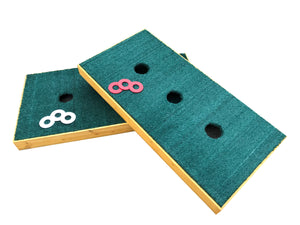 Washooo
Official Washooo Game Set
Sale price Price $199.99 Regular price $299.99 Unit price / per
Everything you need for epic fun in your backyard, out camping or just about anywhere you can lay two boards down flat and start dropping washers.
Each Washooo Game Set Includes:
- 2 Official Washooo Game Boards
- 6 Powder Coated Washers (3 White and 3 Red)
- Official Washooo Game Play Instructions
You have probably seen it before and wondered where you can get your own. Well the search is over!!!! These official Washooo sets are professionally manufactured by a licensed and professional home builder. Yes that's right.  A home builder.  So the construction is a little overboard but it makes the Washooo sets nicer, stronger and longer lasting.
Washooo game boards are made from solid wood and stained for protection and a smooth beautiful finish.  The tops of the boards are covered in artificial turf and counter sunk into the sides of the boards.  The artificial turf is glued to the top of the plywood for a tight fit and finish.
Boards measure 2 feet wide by 4 feet long.
Washers are approximately 3 inches in diameter and are finished with a powder coating film to resist paint chipping and the washers rusting.
Often imitated but never duplicated.  You may have heard it referred to as Texas Horseshoe's, Jullio or Ring Toss, or seen it played with bean bags or sacks, but there is only one true Washooo......and this is it!!
Get your very own Washooo set and enjoy it all year and for years to come. Use it at the lake or backyard parties, take it on vacation or bring it camping! Makes a great gift anytime of the year for your sports enthusiast.  
Host a Washooo tournament and see where the night goes...